New lyric video "The Warlock's Trail" released
AFM-Records released a new video with another track from the upcoming album.
"The Warlock's Trail" is the first lyric video from the new album. So maybe we can sing this song together on the upcoming tour?
16.03.2019
---
Over 180.000 views of "Rise Of The Dragon Emprie"
We are very happy that the video of "Rise Of The Dragon Emprie" was watched more than 180.000 times within the first 2 weeks.
Really amazing. Thank you all for this support.
We hope to see you all on tour in a few weeks!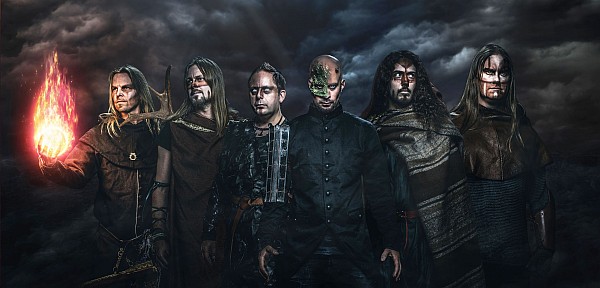 11.03.2019
---
We need you to support the "Tour Of The Dragon Empire"
Bloodheads here you can download the tourposters for your town. Do it and spread it in your town.
Thereby you can support the band and invite more metalheads to their shows.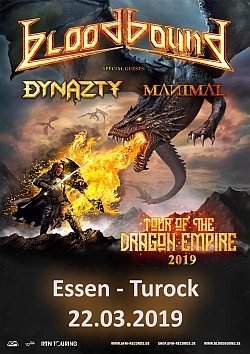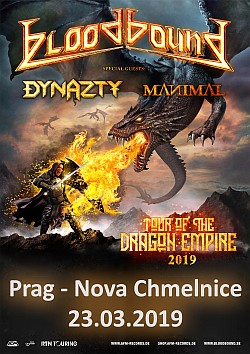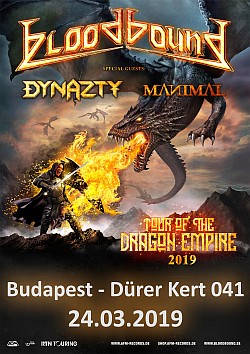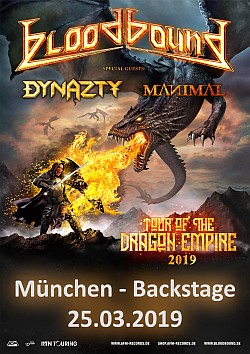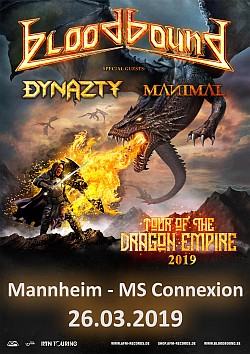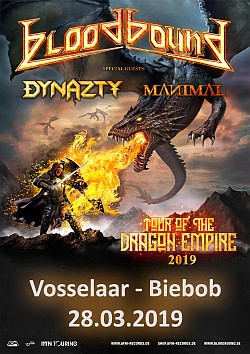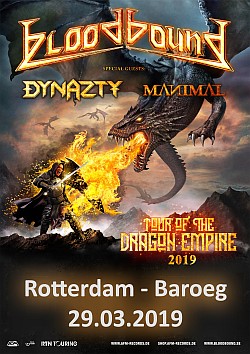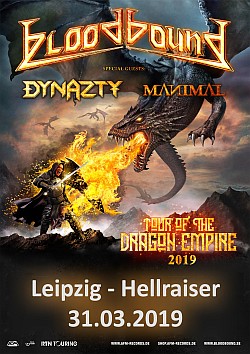 07.03.2019
---
Video "Rise Of The Dragon Emprie" released today
The video of the titletrack from the upcoming album "Rise Of The Dragon Emprie" ist released on youtube today.
So the waiting was worth it, because the new album is simply gigantic!
Hope you all enjoy the video and the new album.
25.02.2019
---
"Rise Of The Dragon Emprie" will be released on March 22
The studio album number 8 "Rise Of The Dragon Emprie" will be released at March 22 via AFM Records.
The album is available for PRE-ORDER at the AFM RECORDS webstore NOW!!!
The different versions of the new album you can find here: AFM Webshop
Two years after their first chart entry in Germany with "War Of Dragons" and an almost completely sold out headliner tour, Bloodbound are back with their eagerly anticipated new album "Rise Of The Dragon Empire".
One has to make a compliment towards the six swedes as "Rise Of The Dragon Empire" is full of hits, hits and again hits! The band further refined their formula and now comes up with the best material in their entire career.
Even if Bloodbound add their own taste, "Rise Of The Dragon Empire" will not only thrill their numerous fans, but also fans of Sabaton, Powerwolf and even Nightwish.
Tracklisting:
CD: 01 Rise Of The Dragon Empire 02 Slayer Of Kings 03 Skyriders And Stormbringers 04 Magical Eye 05 Blackwater Bay 06 Giants Of Heaven 07 The Warlock's Trail 08 A Blessing In Sorcery 09 Breaking The Beast 10 Balerion 11 Reign Of Fire
DVD: 01 Bloodtale 02 Battle In The Sky 03 Stand And Fight 04 In The Name Of Metal 05 Stormborn 06 When All Lights Fail 07 Moria 08 Silver Wings 09 Dragons Are Forever 10 Nosferatu 11 Made Of Steel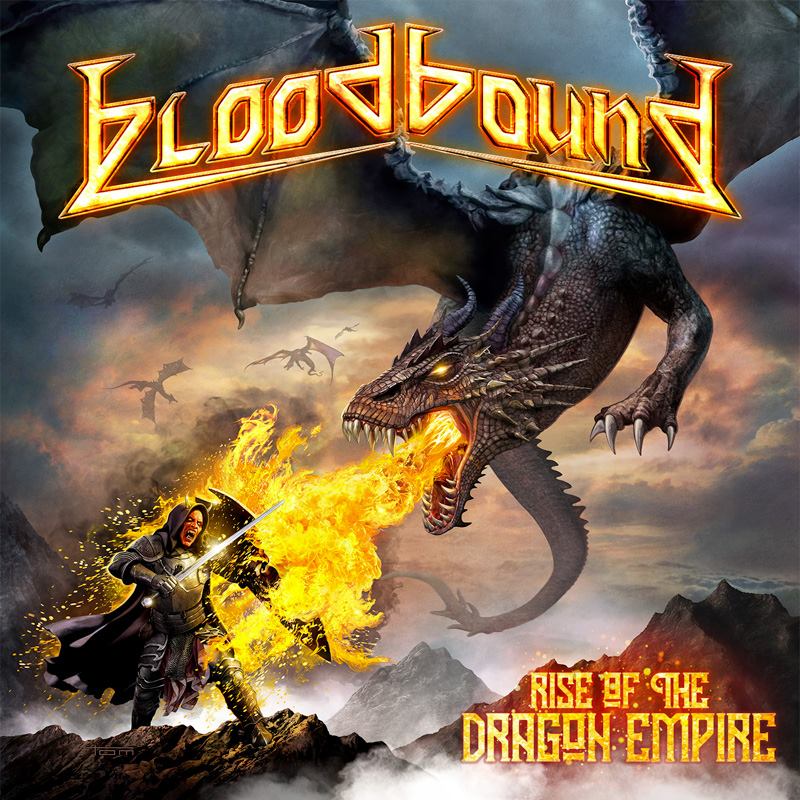 19.01.2019
---
Headlinetour in March 2019
The "Tour Of The Dragon Empire" starts at 22nd of March. 10 dates in 6 european countries give you the possibility to see them live.
Go and get your ticket now!
The detailed tourdates you can find here:Tourdates
13.01.2019
---
2 Bloodbound shows in Sweden
Hello Bloodheads of Sweden,
you are the lucky ones, that have the possibility to see Blooobound live again in Jönköping & Linköping.
So be there and enjoy the shows:
04.01.2019 - Jönköping - Denim And Leather Rock Club – with REXORIA as support band
Tickets you can find here: Tickster
05.01.2019 - Linköping – Palatset – with EMETROPIA as support band
Tickets via Swish: a 200:- till 0704-936319 (Pär Östberg)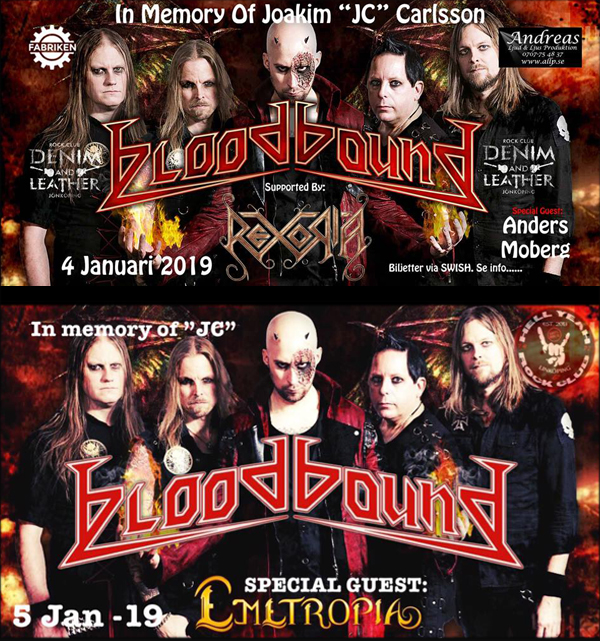 03.01.2019
---
Merry Christmas and a Happy New Year
24.12.2018
---
New Bloodbould album is coming soon
Actually the band is working on their studio album nr. 8!
The songwriting, arranging, recording and tweaking of the songs is still in process.
In a few weeks the final recordings will be done.
So we hope to get more informations of the next realease very soon.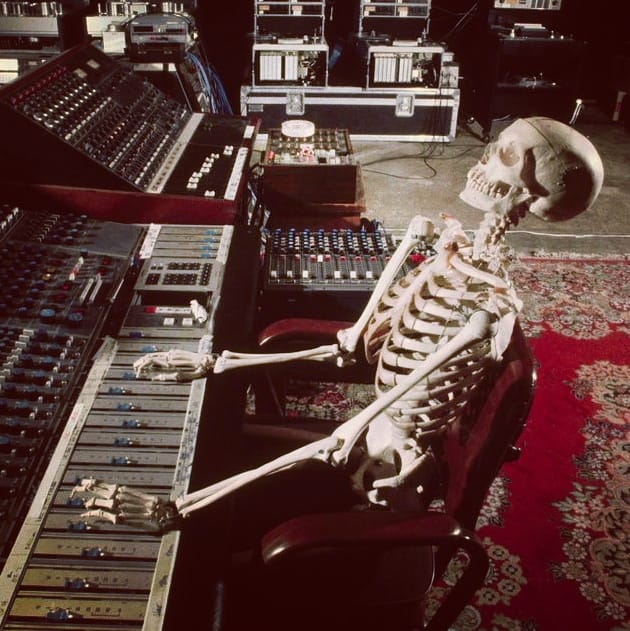 09.11.2018
---
New Bloodbound shirt
Since the last shows for this year are done, we want to sweeten you the end of the year with a brand new shirt.
The shirt will be available on a few shows in 2019 and it is limited.
But the members of the Bloodheads will get the chance to order it earlier. Them you will be sure, that you get one.
You can preorder it from now till 10.11.2018.
Price is 20 Euro plus additional shipping costs.
We offer the shirts in sizes from S up to 5XL.
Payment has to be done within 7 days after receiving your invoice.
The shirts will be delivered in the middle or end of december.
To order this unique shirt send us an email to

with the following informations:
member number
name
address
size
quantity
So be quick and get one.
In the name of metal!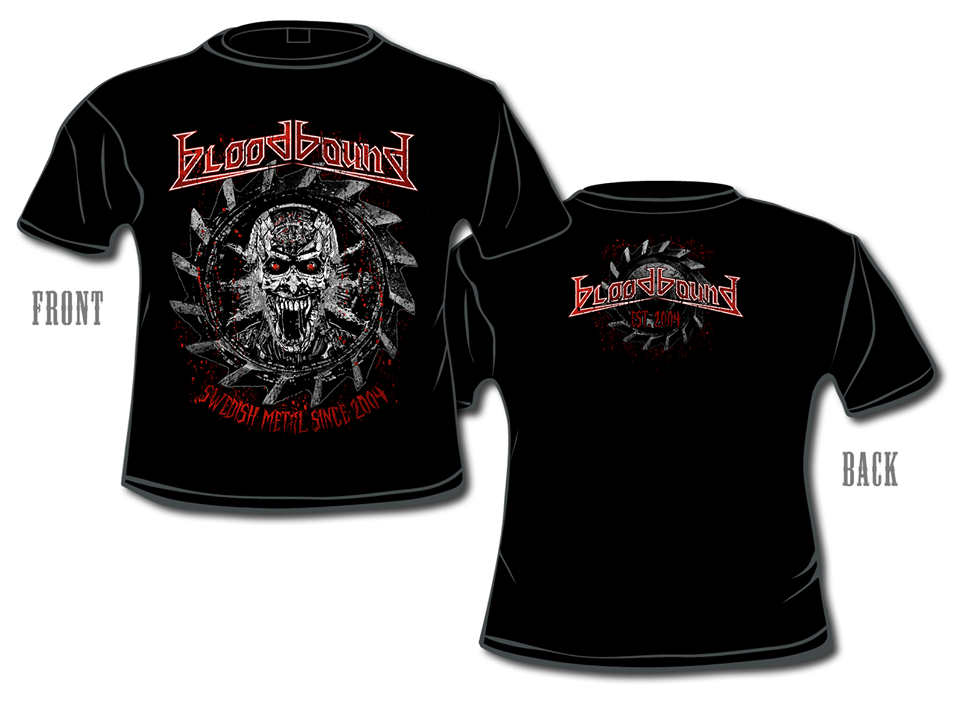 31.10.2018
---
Bloodbound in Belgium
Bloodheads of Europe!
If you wanna take the chance to see Bloodbound live this year, come to Begium at 20th of October.
The will play at the "Evil or Die Fest" in Roeselare.
Showtime is 21:00 – 21:45.
There are still tickets & sepcial hotel conditions avaialble:
Friday: 20euro (presale) - 25euro (at the festival)
Saturday: 25euro (presale) - 30euro (at the festival)
COMBI: 40euro (presale) - 50euro (at the festival)
Presale email tickets END: 10.10.2018 !!!
Presale hard tickets END: 18.10.2018 !!!
Hotel Mercure**** (near festival)
Special rate for festival visitors
SINGLE ROOM : 65 EURO
DOUBLE ROOM : 65 EURO
SINGLE ROOM + BRKFST : 75 EURO
DOUBLE ROOM + BRKFST : 85 EURO
2 nights reservation + festival combi ticket = 10 EURO DISCOUNT
E-mail for tickets & hotel reservasions: tickets.evilordie@hotmail.com
05.10.2018
---
Cruise with Bloodbound through the Baltic Sea
Bloodheads of the northern countries!
Are you ready to cross the Baltic Sea with Bloodbound, Shadowquest, Lancer & Hammerfall?
Join this unique metal cruise in October.
On this cruise you can hear Patriks voice twice, since he performs with Bloodbound & Shadowquest.
Don't miss the shows. Book your ticket under Rock The Boat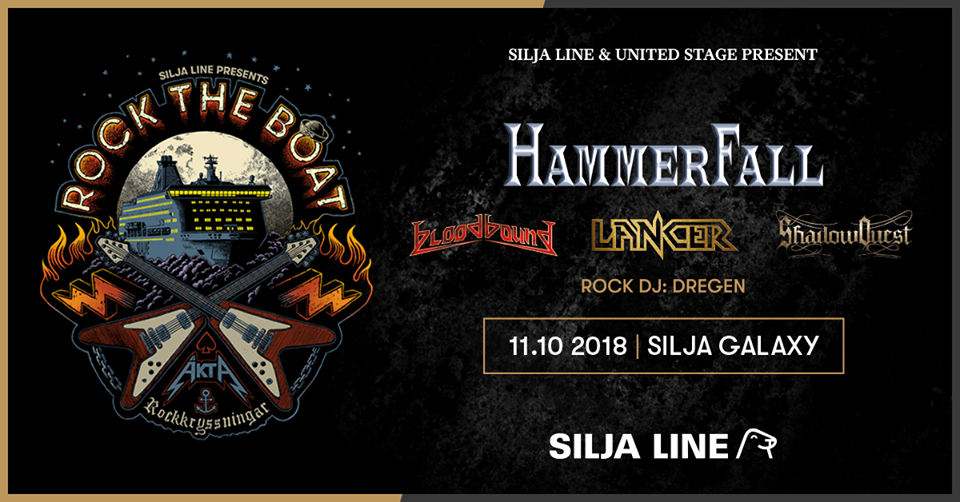 05.09.2018
---
AFM release old Bloodbound albums as vinyl
Actually AFM Records will re-release 2 of the older Bloodbound albums. The release date will be March 30:
BOOK OF THE DEAD (2007) will come as a clear 2-vinyl, limited to 300 units! It will include the unreleased bonus track "The Tempter (demo)". This rare demo features vocalist Ronny Hemlin (Steel Attack, Tad Morose).
UNHOLY CROSS (2011) will come as a yellow vinyl, limited to 300 units!
Later in the year NOSEFERATU (2006) and IN THE NAME OF METAL (2012) will also be available on vinyl!
WAR OF DRAGONS is also reprinted with a slightly different to the first press with yellow-red splatter. Release date was Janaury 26.
You can already pre-order those beauties in the AFM Records web-store
16.02.2018
---
Merry christmas and a Happy New Year
24.12.2017
---
Bloodbound merchandise at EMP
Starting from 4th of August you can find also a few Bloodbound T-shirts in the EMP shop.
The band has formed a partnership with the best merchandise store out there - EMP.
EMP will carry the merchandise and Bloodbound is working on many future designs…
We can't wait to get them all!
Here you can get the EMP Bloodbound merchandise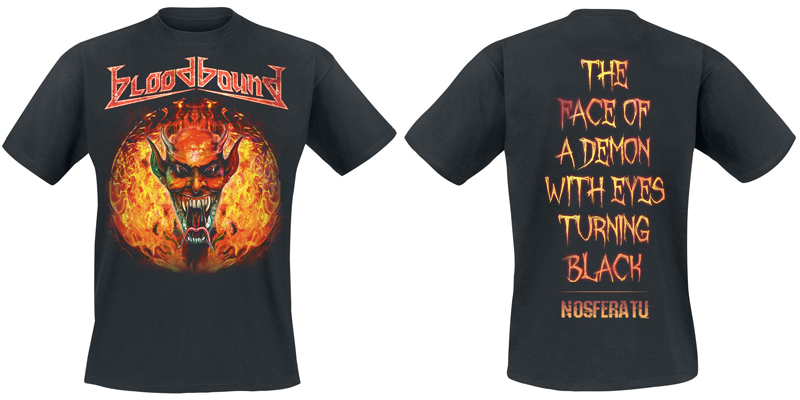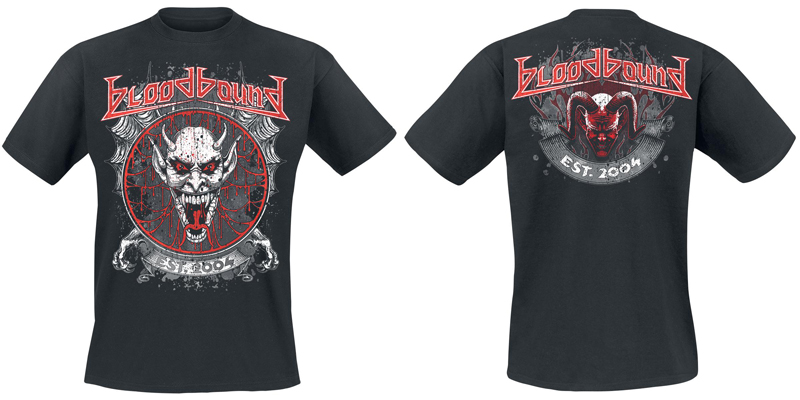 03.08.2017
---
New Bloodbound Drummer
The band announce today who the new drummer in bloodbound is.
Most of you will know him from one of the last shows. He has been playing with Bloodbound on and off since 2015 and the band and lots of Bloodheads feel, that he is the perfect drummer for this band, both on a musical and on a personal level.
Many of you will recognize hin from Twilight Force and for his work with Sabaton earlier this year, when he replaced Hannes van Dahl for a few shows.
So all you Bloodheads worldwide, please give Daniel Sjögren a warm welcome to Bloodbound!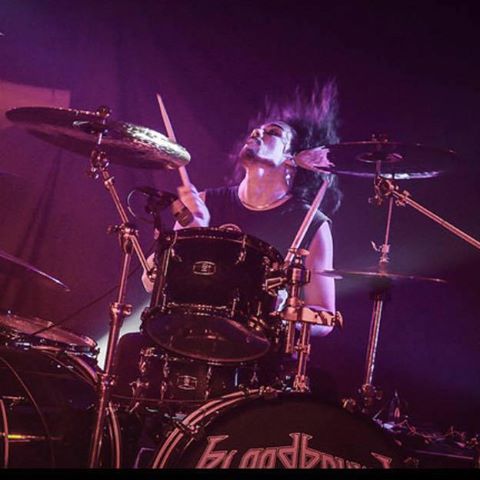 01.08.2017
---
Brandnew lyric video "War Of Dragons"
AFM Records released today a new video with lyrics to "War Of Dragons".
Enjoy it and see them live on the upcoming festivals!
19.06.2017
---
Vinyl - WAR OF DRAGONS is sold out now
The vinyl of WAR OF DRAGONS is now offically SOLD OUT. The only copies left are the vinyls in stock at some stores/webstores.
We hope all you crazy Bloodheads still got your copy.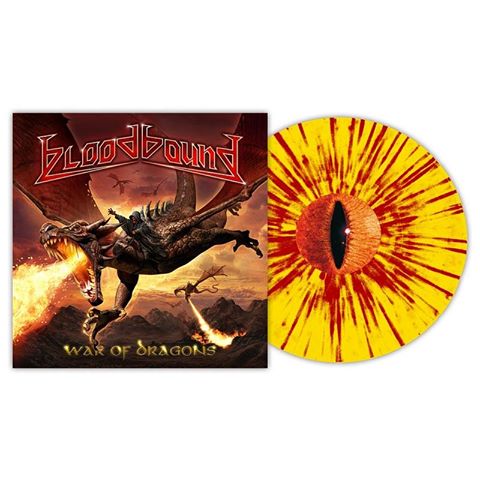 27.05.2017
---
Bloodbound - drummers for the festival season
Two totally amazing guys and drummers will join Bloodbound for the upcoming summers festivals. All of you should know them from the past.
Mr. Daniel Sjögren will play with the band at the BANG YOUR HEAD and ROCKHARZ festivals.
Mr. Kalle Löfgren will perform at the ROCK ON MUSIC FESTIVAL, KARLSLUNDSFESTIVALEN and METALLERGRILLEN.
26.05.2017
---
Festival dates 2017
This summer Bloodbound will only play 5 exclusive festivals.
Will you be there and see them live again this year?
20.05.2017
---
Bloodbound on TV in the Czech Republic
During our tour on our stop at Masters of rock café in Zlin Fredrik and Patrik did an interview for the Czech TV channel Rebel TV.
The interview is in czech and english language. Check it out!
Rebel TV - Bloodbound interview
10.05.2017
---
A fantastic tour comes to an end
The tour is now over and all are back home in Sweden.
This first bloodbound headline tour has been absolutely amazing for all bands!
The response and the amount of fans coming to the shows has been absolutely overwhelming.
The band coommented the tour with the following words:
"When we planned the tour we didn't quite know what to expect since we haven't done a previous tour as a headliner, so we are super happy to sum up that the tour has been a huge success for us.

A MEGA THANK YOU to all the incredible fans we have and to the amazing musicians and people who made this tour so great in every possible way!

From our hearts - THANK YOU!"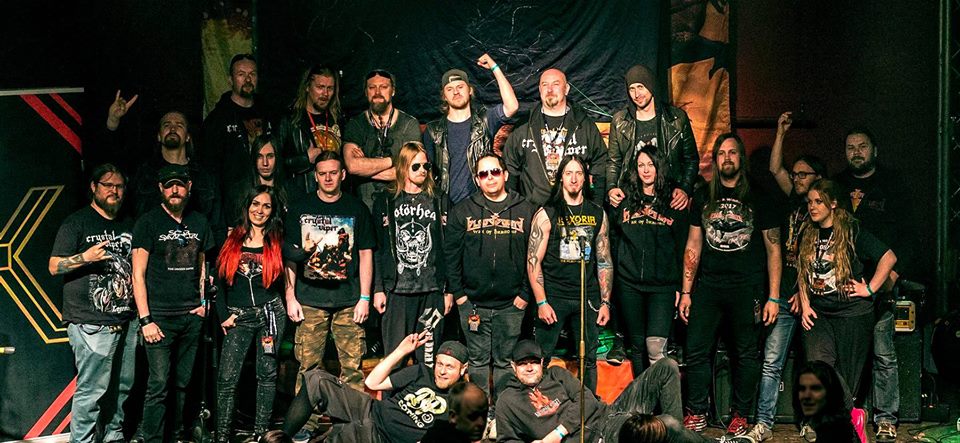 12.04.2017
---
Win a Meet & Greet with all bands on the Dragons & Witches tour
WIN A VERY SPECIAL MEET AND GREET with BLOODBOUND and all the other bands!
The tour is coming up soon and Bloodbound hope to see many of you on the road!
The band have now organized a competition where you can win a special evening with BLOODBOUND and all the other bands.
In this competition only ONE person PER SHOW can win an EXCLUSIVE MEET AND GREET.
The WINNERS will get:
*Free entrance to the show.
*Access to see the soundcheck.
*Meet and Greet with all the bands where you can get your CDs signed and take exclusive pics.
Usually bands charge stupid amount of money for this - Bloodbound don't!
This is what you have to do to participate in the MEET AND GREET COMPETITION:
1 - JOIN the event on Facebook for the SHOW where you want to meet us.
2 - SHARE the event (public) on your facebook profile with a comment: I'm coming and want to meet the bands. Or something similar.
3 - INVITE as many friends as you can to THAT event - please invite only friends who can be interested in the show!
4 - POST in the event: I'm coming, I have shared the event, invited (number) guests and want to win the meet and greet option!
Deadline is around 2 weeks before the shows! Bloodbound will announce the lucky winners in the EVENT DISCUSSION of each of the events.
You can find the events on Facebook on the Bloodbound and on the Bloodheads page.
13.03.2017
---
Bloodbound rehearsals with Thobbe Englund
Bloodbound have been very busy rehearsing for the tour the past weeks and now they feel the band is seriously kicking ass!
They cant wait to meet you all very soon!!!
Left to right on the photo: Thobbe Englund, Fredrik Bergh, Kalle Löfgren and Tomas Olsson.
11.03.2017
---
War Of Dragons entered the european album charts
One week after the album release Bloodbount entered the album charts with their brandnew & fantastic album.
Sweden:
# 10 on the PHYSICAL ALBUM CHART
# 7 on the VINYL CHART
# 6 on the HARDROCK CHART
Germany:
# 56 on the TOP 100 ALBUM CHART
Switzerland:
# 58 on the TOP 100 ALBUM CHART
Congratulations Bloodbound.
You really deserved it!
08.03.2017
---
First show in 2017 will take place in Sweden
At the 17th March Bloodbound play their first show in 2017. It will take place in their homeland in Sweden.
The Denim And Leather Rock Club in Jöncöping is waiting for you!
At this evening they will perform the first time songs from their brand new album "War Of Dragons".
And nearly 2 weeks later they will start their European tour.
Will you be part of it?
More informations you can find on our homepage under "On Tour".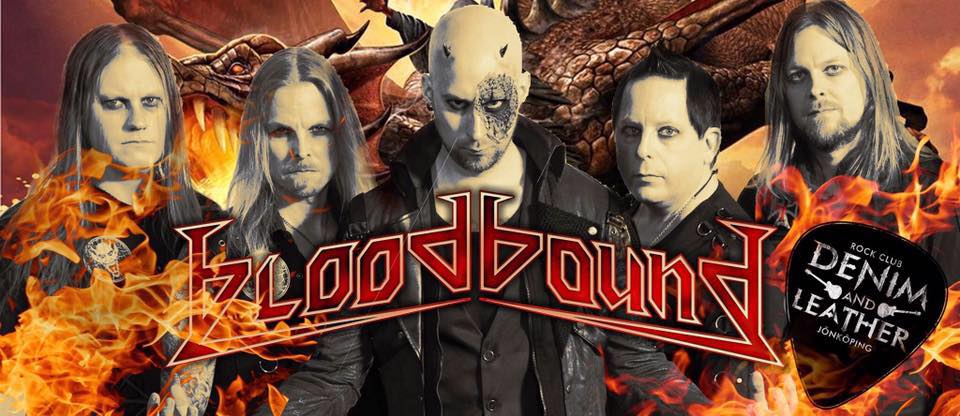 03.03.2017
---
Teaser with all songs of the new album
Check it out and spread this video like hell!
22.02.2017
---
Second song of the new album released
Today AFM records released a second song with the titel "Stand And Fight" from the new album.
The album will be released in 2 days.
22.02.2017
---
Dragon & Witches Tour – Promotion Shirt
Bloodheads worldwide,
now it's your turn.
We must do a massive promotion for the upcoming tour.
In addition we have contrived something quite special.
We want to produce a tour promotion shirt, that we can offer to you for the fantastic price of 10 EUR plus additional shipping. Thanks to some great sponsors to get this realized.
You can order one, two or 10 shirts. No matter!
Who wants to support the band on this tour, and wants to wear this fuckin unique shirt until the tour starts, should order it now.
Obliging orders are up to 20.02.2017 possibly by mail to:

The mail must include the following informations:
Full Name and address
Size of the shirt and quantities
After the end of the date of order you will immediately receive payment information, then the payment must occur within one week.
Maybe we can additional pack some flyers and posters which you can spread in your hometowns.
You can als make a centralized order, for friends, other fanclubmembers etc. to save shipping costs.
If we don't get at least the order for 100 shirts, this action will be cancelled.
Shipping costs:
Germany:
1 shirt as letter: 2,00 EUR
1 shirt as reg. letter: 4,50 EUR
Parcel 2kg: 5,50 EUR
Parcel 5kg: 7,00 EUR
Parcel 10kg: 9,50 EUR
European Union:
1 shirt as letter: 4,00 EUR
1 shirt as reg. letter: 6,50 EUR
Parcel 2kg: 15,00 EUR
Parcel 5kg: 17,00 EUR
Parcel 10kg: 22,00 EUR
Other European Countries:
1 shirt as letter: 4,00 EUR
1 shirt as reg. letter: 6,50 EUR
Parcel 2kg: 16,00 EUR
Parcel 5kg: 31,00 EUR
Parcel 10kg: 39,00 EUR
Shipping to other countries only on request!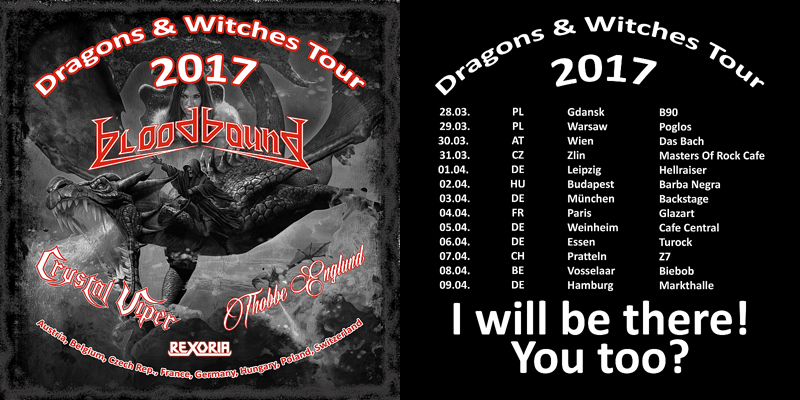 18.02.2017
---
Order the new album War Of Dragons now
Bloodheads we have to wait only one week!!!
Then we all can hold this amazing album in our hands.
In whole Europe the new album get best critics and nearly almost the highest score.
The band needs your maximum support for the release of the upcoming Bloodbound album WAR OF DRAGONS now.
The target is clear: We have to place as many advance orders as possible at AFM-Records or EMP to get the best possible chart entrance for the new album.
So give your best!!!
The album is available in 5 different versions:

Special edition (Vinyl & shirt)
17.02.2017
---
Official Video for the new album: - Battle In The Sky
AFM-Records released today the official video if the song "Battle In The Sky" from the upcoming Bloodbound album War Of Dragons.
03.02.2017
---
Review of the new album - War Of Dragons
Strombringer.at releases the first review of the new Bloodbound album.
Because the review is written in German (or better Austrian :-), we have tried to translate once the whole document for you.
A New Era Begins
Short spoken Intro.
Battle In The Sky
This song brings full speed from the beginning on and starts with an epic chorus. Also in hereafter the tempo stays fast and our good old Patrik shows, why he is one of the best of his guild. Funny to see how Bloodbound combine her typical trademarks here a little with the style of her Swedish colleagues of Sabaton. "Battle In The Sky" is a more than only a worthy opener.
Tears Of A Dragonheart
Also the second track welcomes us at the beginning with a chorus which reminds a little bit of "Ghost of division". In my eyes it is really no crime, to orientate itself by other bands, to try something new and to maintain still the own style. Especially this is well succeed by the swedes in this song.
War Of Dragons
The title track sounds rather like the small (or, nevertheless, the big one?) brother of "Wishmaster". The parallels are unmistakable, however, it never looks stolen or willful badly made. It is very charmingly and shows Bloodbound in an very epic way, I have never recognized before.
Silver Wings
Its beginning is, compared with the other songs, slowly with a short flute intro, but then it goes on with hard double bass. In the following, the number still presents itself more pure and as a contrast program to the three songs before. "Silver Wings" reveals rather the kitschy and very classical side of power metal. However, its refrain is absolutely a catchy tune which kind of only the swedes can write.
Stand And Fight
You want the absolute hymn of the album? Here you have them! With this title headbanging is pre-programmed and the number should not disappoint you. The quiet hymnal inclined bridge offers a great change over to the brute chorus which beats down on the listener like quick punches. I would also like to emphasise, the orchestral arrangements which were put absolutely brilliantly in scene what applies in general for the whole album. This song would be allowed to leave live an effect like a colossal wrecking ball, because it bangs totally your brain away.
King Of Swords
With the beginning it seems to hear a song from Nightwish, then Rob Halford starts to scream into the microphone. At this point the listener does not know how he should stop his euphoria, in view of this huge load of power. With full speed this song blow us away, guitars full of speed and heavy keyboard sound will come over the listener. At the latest with the catchy formed refrain everybody knows, the song comes up easily to the top hits like "Moria" or "Iron Throne".The Swedes trump once more with a divine chorus, which might be harder to be expelled from the ear canals than an inflammation of the middle ear.
Fallen Heroes
The sound is bombastic, with right volume there roars the ground and the neighbours barricade themselves in view of this blast. The two great talented Olsson brothers at their battleaxes uses a numerous of technical delicacies in the successful compositions and belong with certainty to the best musicians in the melodic metal genre. In the middle section it seems the song could be written also from Avantasia, but in general the song could still be a musical continuation of "When The Kingdom Will Fall". A terrifically stamping monster with majestic choirs.
Guardians At Heavens Gate
A song in which the accelerator is completely stepped. At the beginning a bit unspectacular, develops this song in fact of his complicated arrangements and hardness still to a catchy tune which pulls the listener immensely in his spell.
Symphony Satana
The song breathes at times more Helloween spirit than the pumpkin heads since more than one decade itself did. To compare Bloodbound with other band like Hammerfall or Stratovarius is absolutely appropriated with this song. It is nice what incredibly high dynamism this song shows and binds the listener with its kind full of pressure completely to himself. Already after the first restrained tones no more eye remains dry. At the latest from the beginning of the refrain the fan of melodic power metal has thick tears of joy in the eyes. One of the highlights of the album.
Starfall
Whether you believe it or not, "Starfall " has at the beginning again a light Nightwish touch. As soon as the song starts, it goes again in the usual direction. The tempo is throttled a bit and gives some time for breathing deeply to the listener, before the final song powers out again full speed.
Dragons Are Forever
Fascinates by the heaviness and perfectly coordinated song harmonies, like songs from Avantasia or Masterplan, in addition a mighty, fantastic grooving. A banging hymn with an awesome refrain like we knew from Freedom Call with additional heavy double bass drums. A mighty song and a worthy end for this album.
Result
The album surprises not really, it justifies only the value which one has put away for men already in the approach. This time one has the feeling that of all one more corner has become better, more mature, more neatly, more bombastically and points harder. In addition an absolutely strong production, infers with ambitious songwriting which knows how to like, with a huge number of catchy hooks. All twelve songs are fresh, unused super hymns which every heart of a melodic lover makes be beating. Bloodbound have remained loyal to itself and have strictly followed up on the new album, in contrast to a lot of other bands in this category. They followed and perfected their way, and renounced unnecessary experiments.
Strombringer: Bloodbound - War Of Dragons - Track by track
03.02.2017
---
Bloodbound announces new drummer
Today the band announced the name of the new drummer. His name is Kalle Löfgren from Falun/Sweden.
Bloodbound wrote the following statement: "We are very pleased to announce that we have found a KILLER drummer who will join us on the DRAGONS AND WITCHES tour this spring... His name is Kalle Löfgren and he was reccommended by our good mate Daniel Sjögren from Twilight Force.... Kalle is an awesome drummer and we believe the fans will be happy with this monster behind the drums \m/ Nos n da Boyz".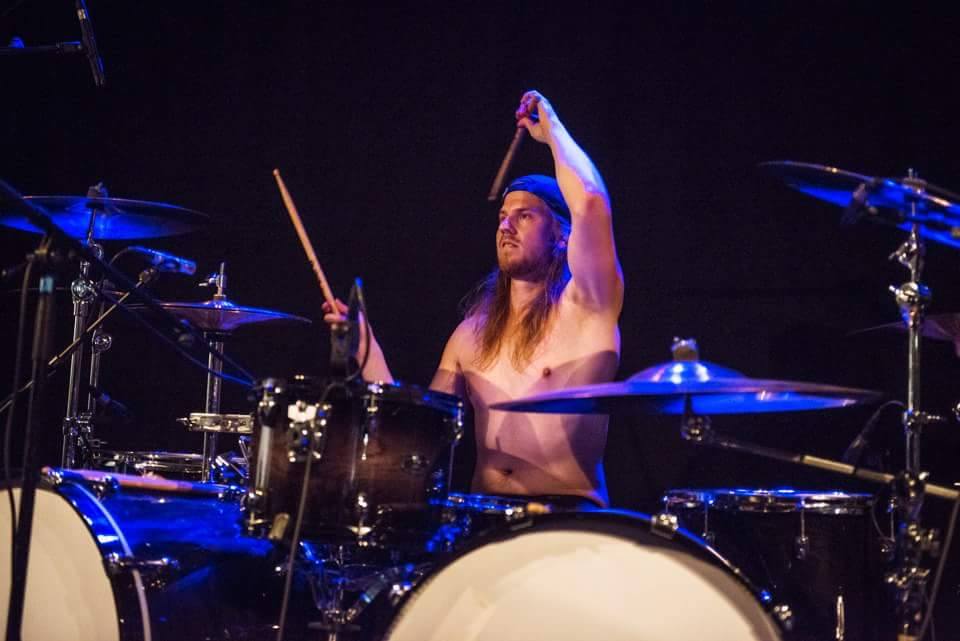 25.01.2017
---
Merry christmas and a Happy New Year
24.12.2016
---
Fantastic artwork for the new album
Not only with their music Bloodbound will release their new masterpiece in 2017.
Also with the artwork for "War Of Dragons" they did an awesome desgin.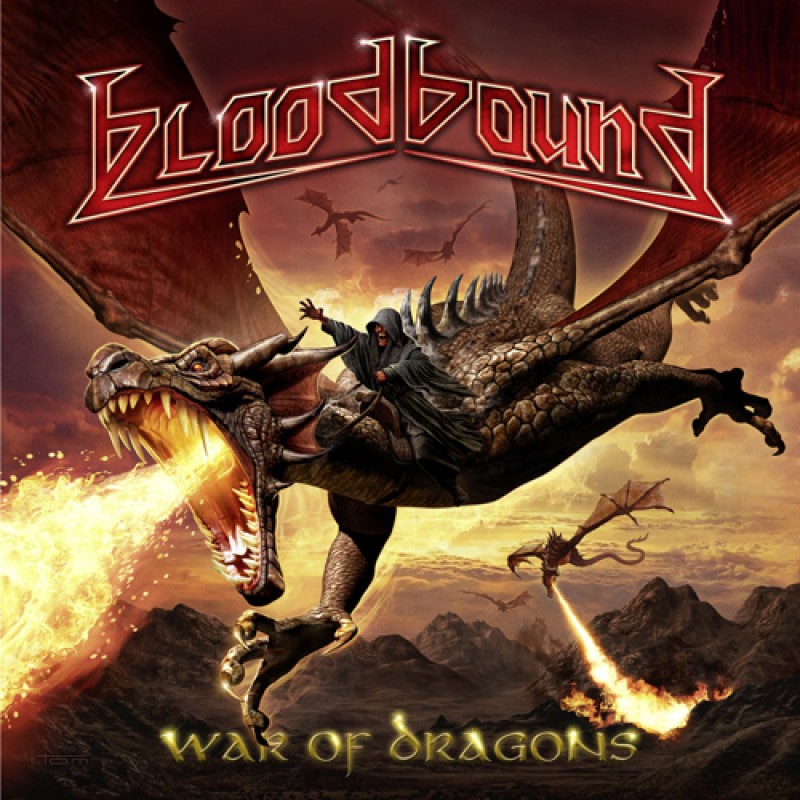 21.12.2016
---
Headline tour over Europe in 2017 announced
The band's first headlining tour is announced!
The traditional heavy metal band (and AFM label mates) Crystal Viper will join the tours as co-headliners.
Our friend Thobbe Englund (ex-Sabaton) and his brand new killer band will accompany during this tour and will complete the tour package.
For the upcoming shows in 2017 you can find all tourdates inclunding a link where you can buy the tickets here: Tourdates
We hope to see you all on the tour.
And please spread this informations to all friends and metalheads, that we can bang our heads togehter with Bloodbound all over Europe!
17.12.2016
---
Bloodbound will release "War Of Dragons" in February 2017
Bloodbound have announced the arrival of their new studio album, titled "War Of Dragons" for February 24th. "War Of Dragons" follows the Live DVD/CD "One Night Of Blood" which was released in February (2016).
During the past few years, BLOODBOUND have established themselves as one of the finest metal acts from their traditionally strong home country - having toured Europe with the likes of Sabaton and U.D.O.. All this experience now shows in "War Of Dragons", likely the band's most anthemic, bombastic and fast-paced album ever.
Tracklist:
A New Era Begins
Battle In The Sky
Tears Of A Dragonheart
War Of Dragons
Silver Wings
Stand And Fight
King Of Swords
Fallen Heroes
Guardians At Heaven's Gate
Symphony Satana
Starfall
Dragons Are Forever
"War Of Dragons" will be available as CD, 2-CD Digipak, ltd. Vinyl & ltd. Box Set.
You can preorder the new album here: AFM Records
13.12.2016
---
Bloodbound and Pelle goes separate ways
"We are very sorry to announce that Bloodbound and drummer Pelle Åkerlind has parted ways due to creative and musical differences.
This was a very tough decision to make after over ten years together in the band. :-(
We wish him all the best in the future with his other great bands Trail of Murder & Morgana Lefay!"
the band commented the split.
The bloodheads worldwide are very sad about this fact, but Pelle will always be in our hearts.
We have to say thank you for so many good and great moments over the last years!
We wish him all the best with his other bands, and hope we will meet him somwhere on tour again.
THANK YOU PELLE – IN THE NAME OF METAL!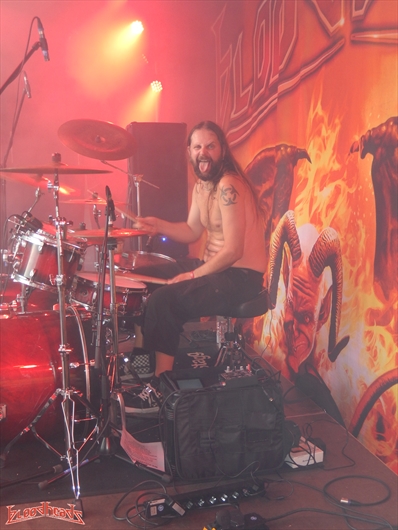 02.12.2016
---
The winners of a ticket for the Metalacker festival are certain
You guys are awesome!
After one hour we got 8 bloodheads which will get a ticket for the Metalacker festival.
Here are the winners:
Thomas Junker
Oliver Erhard
Astrid Junker
Jenny Schmitt
Peter Krause
Dave Lugert
Stefan Behr
Manfred Eckl
Congratulations - we wish you all lots of fun there!
11.08.2016
---
Win a ticket for the Metalacker festival
For the upcoming show at the Metalacker festival in Tennenbronn/Germany we will raffle totally 8 tickets, valid only for Saturday 27th August 2016.
If you wanna go to the festival and you will win one of the tickets write an email to:


subject: Metalacker tickets. Write your name and your member number in the mail. Each of the first 8 correct and complete emails will get one of these tickets.
Rules:
Your age must be 16+
You must be actually a registered member on the bloodheads.com homepage (up to member number 102).
Good luck!
10.08.2016
---
Time scedule for Graspop Metal Meeting in Belgium
Showtime: Friday 17.06 / 11:15 – 11:55 / Metal Dome stage
Signing session: Friday 17.06 / 14:30 – 15:00
Please make sure to be quite early at the stage to give Bloodbound all your support for their show.

15.06.2016
---
Fantastic show and a brilliant audience on the Metalfest in Pilsen
Thousands of fans celebrated Bloodbound on this year's Metalfest in Plisen.
Apparently many Bloodbound fans had arrived not to miss their show.
Unfortunately, 60-minute playing time were over too fast, the setlist was like so often, too short. At the following signing session the fans could still come to meet the band and all possible objects could be signed.
All in all, a successful show which should be repeated with at least 90-minute playing time.

04.06.2016
---
Bloodbound confirmed for some festivals this summer
Good news to all Bloodheads.
After the great european tour this spring together with Sabaton, Bloodbound will be back this summer on different festivals in Europe.
Hope we see a lot of you and maybe some new faces on this festivals!
More informations about the festivals and tickets you can find in the navigation bar under "On Tour".
17.04.2016
---
Possibilities to order the upcoming Live DVD – One Night Of Blood
We found some possiblities to support the band with the purchase of the new release.
1.) Order via fanclub/band
You can buy the DVD right now for 20 EUR plus shipping.
Shipping costs are: Germany: 3,00 EUR, Europe 4,00 EUR. Other countries on request.
Additional cost for registered shipping: 2,50 EUR
Non registered shiping on buyer risk.
To order please send an email to merch@bloodheads.com
2.) On tour
You can buy the DVD also on the upcoming tour.
But we can not guarantee, that we will have enough DVDs with us.
3.) Online – shops
To get the highest entry in the swedish charts you can buy it also at one of these shops:
Bengans
Ginza

26.01.2016
---
Bloodbound will do a gig in Sweden
Bloodheads of Sweden!

Is it too cold to play some metal these days?
Or are you all Vikings and come to a show - no matter whether is stormy or snowing or ice cubes are falling from the sky?

So south of Sweden - Östergötlands län – will you come to Finspång at 6th of February to celebrate some bloody metal with Bloodbound?
13.01.2016
---
Teaser of the Live DVD "One night of blood"
Moria, one of the most popular older Bloodbound songs live from the Masters Of Rock 2015.
Enjoy it!
11.01.2016
---
Tracklist for the upcoming Live DVD
DVD+CD:
1. Bloodtale
2. Iron Throne
3. When Demons Collide
4. In The Name Of Metal
5. When The Kingdom Will Fall
6. Moria
7. Nightmares From The Grave
8. Metalheads Unite
9. When All Lights Fail
10. Book Of The Dead
11. Metal Monster
12. Stormborn
13. Nosferatu
14. Nosferatu Symphony

DVD Bonus Content:
15. Stormborn (video clip)
16. In The Name Of Metal (video clip)
17. In The Name Of Metal (performance Version)
18. Moria (Live at Masters Of Rock 2012)
19. Stormborn (Live at Out & Loud Festival 2015)
20. In The Name Of Metal (Live in Oberhausen 2015)
21. The Bloody Documentary
30.12.2015
---
24.12.2015
---
First informations about the upcoming Live DVD
The first Bloodbound Live DVD will be released at 12th February 2016.
The DVD contains the show at Masters Of Rock 2015 in Vizovise/Czech Republik, all official videos, a band documentation and additional live videos from the Out & Loud festival 2015 in Geiselwind/Germany and from the show as supportband of Sabaton in Oberhausen/Germany.
The additional CD contains material from Masters Of Rock 2015.
Together this DVD/CD package is a must have for every powermetal fan!
10.12.2015
---
Bloodbound will release their first Live DVD
Actually the band is working on their first LIVE DVD.

The DVD will include songs from all albums except the "Tabula Rasa" release. Soon there will be more informations about the tracklist, the release date and all other details of the DVD.


14.09.2015
---
Stormborn video with over 120.000 views
We are all overwhelmed from the huge number of metalfans which viewed our actual video STORMBORN.
Thanks to everybody.
For those which do not know our actual album and the video yet, we linked it here again:
20.06.2015
---
Bloodbound supports Sabaton in July in Germany and Luxembourg
Today the bands confirmed that they will do two shows together next month.
Bloodbound will perform at July, 25th at the Sabaton Open Air in Gelsenkrichen/Germany.
One day later the will play again together in Luxembourg at the Castle Beaufort.

Only few tickets left for these shows!


12.06.2015
---
"HIGH SPEED STEEL" is now on youtube available
You can now listen to the song "HIGH SPEED STEEL" that Bloodbound wrote for Swedish tool Company BAHCO on youtube.

Click here to hear the song!
12.06.2015
---
New Bloodbound Song "HIGH SPEED STEEL"
Bloodbound were asked by the Swedish hard ware Company BAHCO to do a very special theme song for them as they are a big sponsor at SWEDEN ROCK FESTIVAL in 2015.
The band said yes, jumped into the studio and did this songs about the BAHCO Company and about STEEL of course.

Click here to hear the song! (only available for Facebook users)

31.05.2015
---
New european tour in 2016 with Sabaton & Alestorm
In february and march 2016 Bloodbound will be on tour again.
Together with their metal brothers from Sabaton and Alestrom they will haunt the United Kingdom and Ireland.

28.05.2015
---
Tour report april/mai 2015
Here you can find a small report and some pictures for the european tour in March & April 2015:
Tourreport 2015

10.05.2015
---
BLOODBOUND join forces with TWILIGHT FORCE members for tour!
On the upcoming BLOODBOUND/MAJESTY/EVIL INVADERS tour Fredrik, Pelle & Henrik are unfortunately unable to perform since they have job and family obligations that clashes with the tour schedule...

This sucks we Believe, BUT we REALLY need to get BLOODBOUND on the road so we brought in TWO AMAZING METAL BROTHERS from the awesome band TWILIGHT FORCE to help us out!!!

So please welcome Jocke Johansson on Guitars and Daniel Sjögren on Drums! The replacement for Fredrik is an Ipad. LOL.



The rehearsals with Daniel and Jocke has been great and we promise we won't let the fans down since those guys are brilliant musicians and performers!!!

We can also reveal that we have a brand new setlist with MANY songs from the latest highly successful album STORMBORN

So hope we see you all and many others on tour!

03.03.2015
---
Menu bar expanded
Hello Bloodheads!
We have expanded the menu bar by the following point:

On Tour
You can find there all upcoming shows, with informations and links to the venues and ticketshops.
Enjoy it !
26.02.2015
---
22.12.2014
---
Official video of the titlesong released
Today AFM-Records & Bloodbound released their official video of their titlesong Stormborn
Have a look to this video and enjoy this epic and awesome song. You will love it!

11.11.2014
---
Releaseparties for the new album in Sweden and Germany
To celebrate the new album and to give their fans the chance to hear songs from the new album as the first ones, there will be two releaseparties in November.

8. Nov. 2014 Cologne/Germany ASGARD
15. Nov. 2014 Bollnäs/Sweden YGGDRASIL MC

In Sweden the new album along with new merchandise will be available to buy at the party one week before the official release date!
The band will play a special 60 min warm up show as well, so don't miss this very special event!!!
30.10.2014
---
AFM released the first song from the new Album - Iron Throne
Listen to this epic song and enjoy it!


30.10.2014
---
Bloodbound play at the Winter Masters of Rock in Czech Republic
Bloodbound will present their brand new album in world premiere at the Winter Masters of Rock in Czech Republic!

Just one day before the Winter Masters (November 21st 2014) they will release already sixth studio album titled "Stormborn"! Fans in Zlin will be the first in the world to hear the new album live! Plus the album will be on sale at the festival shop and BLOODBOUND would autograph it for you during their signing session.
14.10.2014
---
Tracklist of the upcoming album & more information
Yesterday Bloodbound startet the making of the video for the titletrack STORMBORN.

And also the tracklist of the upcoming album is now official:
01. Bloodtale
02. Satanic Panic
03. Iron Throne
04. Nightmares From The Grave
05. Stormborn
06. We Raise The Dead
07. Made Of Steel
08. Blood Of My Blood
09. When The Kingdom Will Fall 10. Seven Hells
11. When All Lights Fail

The album will be released on November 21 in Europe through AFM Records and on November 19 in Asia through Marquee/Avalon.

For the first time in the history of BLOODBOUND the album will also be released on VINYL (BLOOD RED VINYL, limited to 500 copies).

06.10.2014
---
First informations about the upcoming BLOODBOUND album
Today we get first informations of the new BLOODBOUND album called STORMBORN!
We heared a view of the new songs as rough demos during our first fanclub meeting at the bäääm festival and believe us: this album will be one of the best metalalbums of the world!!!
You can get it as Digipak, and for the first time, as Vinyl!
So buy it and let the guys from sweden kick your asses!!!
Releasedate is 21st of November 2014!!!!!
29.09.2014
---
New Bloodbound album is done
Good news from Sweden.
The new album is 100% done, and was mixed during the last weeks by Jonas Kjellgren (Raubtier).
All of them gave their best, and the album is made with a lot of blood, sweat and tears to give us the best Bloodbound album ever.
So count the days until you can hold this awesome album in your hands.
26.08.2014
---
Menu bar expanded
Hello Bloodheads!
We have expanded the menu bar by the following points:
-Pictures
-Downloads
Actually you can find there the pictures from the show at the Bäääm festival and from our first fanclub meeting.
Enjoy it !
03.08.2014
---
Review of our first Bloodheads Fanclubmeating at Bäääm-Festival
First Bloodheads Fanclubmeating at Bäääm-Festival:
Perfect weather, perfect venue and awesome bands, nothing could be better for our first fanclub meeting!

The most of us arrived already on friday and had a really funny day with the swedish guys from Billion Dollar Babys at the campground and in front of the stage.
While our friends from bloodbound had their gig in Budapest with Wisdom we banged our heads to great metal with Bullet as headliner for the evening.

On saturday then the guys from Bloodbound should arrive at Cologne airport. Although the plane was late, they where in time for their gig at Bäääm! And it was an absolut fucking awesome one. Patrick tells the German metalheads his favorite german word: "Steckdosenleiste" - a new running gag was born :-)
After the show Bloodbound had an official signingsession for all metalheads and then it was time for the real fanclub meeting. All bloodheads got their eventpasses to join the meeting at a special area on the venue. And of course the band was with us!
Tomas, Fredrick, Anders, Patrick, Hendrik and Pelle took a lot of time to make fotos and sign everything we wanted.
But the highlight of all was, that we where the first people who got to hear a few parts of the upcoming album!!!
For that a really big thanks to Bloodbound for making that possible!!! That's not natural!

So let us say at the end:
The new album will be the best Bloodbound album you´ve ever heared and goosebumps are guaranteed !!! Be ready and buy it, when it will be released in autumn!

Cheers
The Bloodheads!


| | |
| --- | --- |
| | |
30.07.2014
---
Do we still have some Hungarian bloodheads here?
Then you should join the show in Budapest at 18 of July.
But all the bloodheads from other countries are welcome, too.
Have a great party with us and our Hungarian metal brothers of Wisdom.


13.07.2014
---
New Bloodbound shirt avialable
A special surprise for our great fans.
We will give you the change to get one of our new limited shirt "In The Name Of Metal"

The shirt is via preorder available - so be quick and get one!
The preorder is available until 30.06.2014.
To order the shirt send an email to. katrin@bloodheads.com

The email must include the following informations:
First Name:
Last Name:
Address:
City:
Zip/Postal Code :
Country:
Shirttype (men or girlie):
Shirt size:
Quantity:

Shipping or picking up at Bäääm Festival:

The shirts costs 20,00 € plus shipping costs to your country. We will look for the cheapest way to send you the shirts.
A special service for the bloodheads at the bääm festival is, that we can bring the shirts to the festival, so you have no shipping costs to pay.


This preorder is obligatory !
You will recieve the payment-informations via email.
Payment has to be done in one week after recieving the mail with the payment informations.


24.06.2014
---
Bloodbound will play a show in Spain
We just received the great news that Bloodbound will play at the GINETAROCK FESTIVAL on JULY 5.
They can't wait to meet the Spanish audience for the first time!
IN THE NAME OF METAL !!!
Tickets you can get here:

03.06.2014
---
First Bloodheads fanclub meeting at the Bäääm Festival
Bloodheads now it's official, we will organize our first fan club meeting this year in summer.
We will do it at 18. & 19.07.2014 during the BÄÄÄM festival in Kierspe Röhnsahl at Gut Harrbecke (60 km near Cologne in Germany).
The festival takes place this year for the first time, the location is just mega awesome, and a lot of powerful bands will play there.
Due to the central location within Germany fans from all directions and from foreign countries can meet finally here to join the party.
There will be traditional German food and beer, for cheap prices.
If you need a hotel, or want to stay a few day's around to visit Cologne or something else, you can contact us for more informations.
Of course Bloodbound is playing at the festival themself and some other awesome bands from Sweden like Bullet, Billion Dollar Babies, too.
The guys from Bloodbound want to have some beers together with the Bloodheads & the German Saboteurs (Sabaton Fanclub of Germany).
So we will have an exclusive meet & greet with this great guys.
And as a member of the Bloodheads you will get the tickets for a special price:
Festival ticket for both days including camping for 30 (yes you did read correctly THIRTY) EUR.
You want a festival T-shirt too, then you have to add only 10 EUR for the shirt.
Tickets can be ordered by email at peter@bloodheads.com
But the supply is limited, so be quick with your order.
We hope that many of you find your way to the festival, and we have a great party and lots of fun.

| | |
| --- | --- |
| | |
24.05.2014
---
Bloodbound is on tour again in June & July
We are very pleased to give you three new tourdates, where you can see and hear Bloodbound live again:
| | | | | |
| --- | --- | --- | --- | --- |
| Date | Country | City | Venue | Tickets |
22.05.2014
---
Ready for the next album?
Actually the 6 gyus are working on their new album, to give us more swedish metal in the autumn of this year.
But what can we expect? - "This album is gonna be HARDER, HEAVIER, FASTER and more ANTHEMIC compared to our latest album" is the actual statement from the band to the upcoming album. We are looking forward...
If enough bloodheads are collecting vinyl too, maybe there will be a release as cd & as vinyl.


27.03.2014
---
More tourdates added
We have added three more shows in april in Germany and one show in may in Sweden.
Have a look to the updated tourdates 2014 below.
Will you be there ?
07.03.2014
---
1. Fanclubmeeting at the Bäääm Metal Festival [Germany]
At Bäääm Metal Festival we will make our first official fanclub meeting with some surprises for fanclub members!!!
There will be a meet & greet with the bandmembers of Bloodbound and the promoter will give us a restriced area where we can stay with the band.

And we will get special conditions for a limited number of tickets:
Ticket for the two days festival including camping: 30 EUR
Ticket plus festivalshirt: 40 EUR
Tickets for this special price you can order only via email at peter(at)bloodheads(dot)com

So be there !!!
02.02.2014
---
Tourdates 2014
In 2014, the invasion of good swedish metal will continue!
Here we are with the dates of the upcomming Bloodbound tour:
| | | | | |
| --- | --- | --- | --- | --- |
| Date | Country | City | Venue | Tickets |
01.02.2014
---
IN THE NAME OF METAL TOUR Oktober/November 2013
After playing 19 shows in Germany, Austria and The Netherlands, most together with U.D.O & Pike's Edge, it was a successful tour for the 6 guys from sweden. They gained many new fans on this tour, and we think they sould come back soon. The swedish invasion will be continued !
04.11.2013
---